The Pitch: Celebrating 30 Years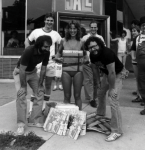 The Pitch was first published in July 1980 as the Penny Pitch, a music sheet handed out by Penny Lane, the erstwhile Westport record store at 4128 Broadway. The first 13 issues were printed under the early banner before undergoing a series of name changes - including KC Pitch and Pitch Weekly - beginning in January 1982. The Pitch eventually expanded into an alternative weekly newspaper serving the greater metropolitan area and covering music, film, arts, entertainment, news and investigative reporting.
July 2010 marked the 30th Anniversary of The Pitch. To celebrate that milestone, LaBudde Special Collections at the UMKC Miller Nichols Library digitized early issues of The Pitch from its first decade, including a complete run of the first 22 issues.