Tex Owens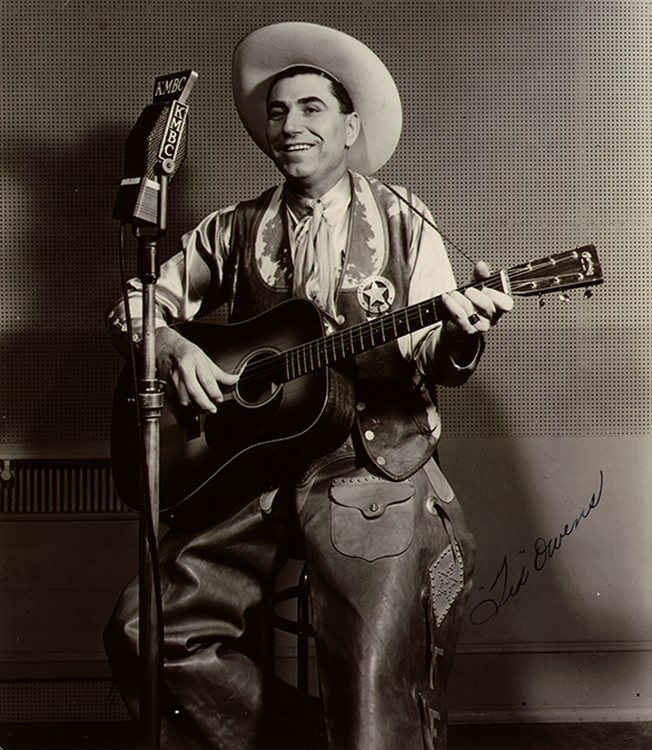 One of KMBC's earliest stars was Killeen, Texas, native Doie Hensley "Tex" Owens. The oldest of 13 children from a musical family (his sister, Texas Ruby, starred on the Grand Ole Opry), Owens worked as a ranch hand, chuck wagon cook, oilfield worker, and Kansas marshal before coming to KMBC in 1932.
A natural performer, the lanky Owens often fronted the Texas Rangers and appeared on "Life on Red Horse Ranch," the "Brush Creek Follies," and other KMBC programs, including his own show which was carried nationally by CBS. Owens frequently performed with his two daughters, Laura Lee and Dolpha Jane. Laura Lee Owens, who also appeared on the Follies, became Bob Wills' first female vocalist in 1943.
Tex Owens performs "Cattle Call," mid 1930s
Owens was also an accomplished composer, and his best-known song was Cattle Call, which he recorded for Decca in 1936. However, it took Eddy Arnold's million-selling RCA Victor release in 1955 (which Arnold first recorded for Bluebird 10 years earlier) to make the tune a world-wide hit and a country standard.
After KMBC, Tex Owens moved on, first as host of Cincinnati's Boone County Jamboree, then to radio and film work in Hollywood. Owens, who died in 1962, wrote more than 100 songs, and was posthumously inducted into the Nashville Songwriters' Hall Of Fame in 1971.
Texas Rangers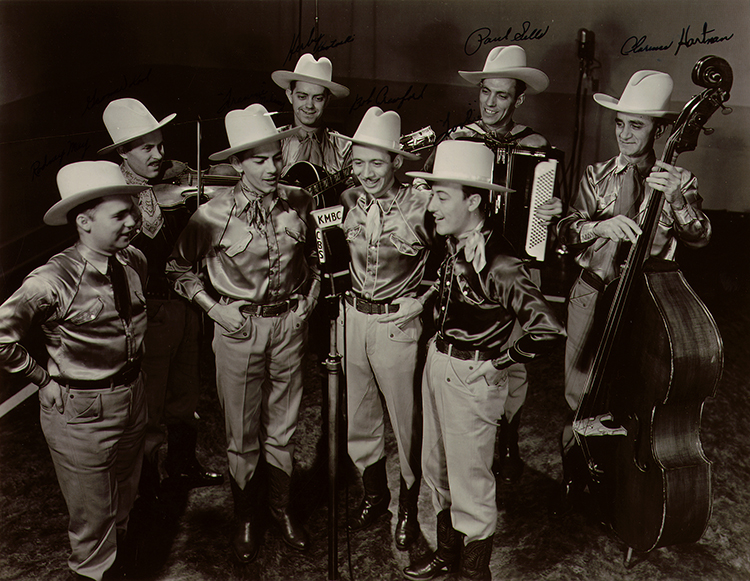 A breakthrough hit for KMBC was Life on Red Horse Ranch, a radio serial that spun bunkhouse yarns to the accompaniment of cowboy rhythms. Along with the action and romance of the Carter family and their ranch hands, the show featured western bands and cowboy singers. Among the most popular were the Texas Rangers, who also appeared on the "Brush Creek Follies," their own program on KMBC, and a national show on CBS, "Under Western Skies."

Cast of "Life On Red Horse Ranch" on-air
featuring the Texas Rangers, mid-1930s
The Rangers' stardom also spread to movies, records, syndicated radio transcriptions, and publishing. On the silver screen the Texas Rangers appeared with Johnny Mack Brown, Judy Canova, Patsy Montana, and the King of the Cowboys, Gene Autry, who featured the Texas Rangers on his "Melody Ranch" radio program.
Less an autonomous band than a KMBC franchise, several stars passed through the Rangers' ranks over the years, including guitar and banjo wizard Herb Kratoska, Curt and Allen Massey, Captain Bob Crawford, Hugh Studebaker, and Gomer Cool, who played fiddle, wrote many Rangers tunes, and scripted dozens of KMBC programs.
"Missouri Stomp" - Texas Rangers
Live on Brush Creek Follies
Oklahoma Wranglers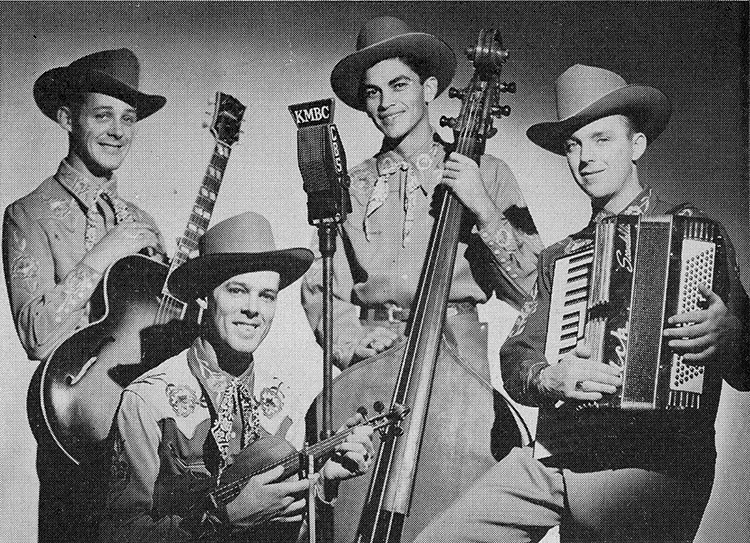 Though dozens of stars graced the Follies' stage over the years, few shone brighter or longer than the Oklahoma Wranglers. Formed in 1932, their career lasted into the '80s, with recordings for the Sterling, Mercury, RCA, and Starday labels; a regular spot on the Grand Ole Opry; and performances with some of country music's biggest stars.
Arriving in Kansas City from their native Oklahoma, brothers James "Guy," Charles "Skeeter," and John "Vic" Willis, joined by bassists such as fellow Oklahoman Chuck Wright, forged a crowd-pleasing sound from bluegrass, Western swing, and country rhythms. A favorite of Follies audiences, the Oklahoma Wranglers appeared on several KMBC programs, including the original "Brush Creek Follies," and the "Dinner Bell Roundup" with singing cowgirl twins Kit and Kay.
"Lone Buckaroo" - Oklahoma Wranglers
Live on Brush Creek Follies, 8 March 1941
After World War II, Eddy Arnold hired the Willis brothers and Chuck Wright to back him on the radio, on the road, and at the Grand Ole Opry. While touring, recording, and broadcasting with Arnold (in addition to appearing in Arnold's two movies, "Feudin' Rhythm" and "Hoedown"), Wright and the Willis Brothers established themselves in Nashville, recording as both the Oklahoma Wranglers and the Willis Brothers.
"Warm Beer & A Cold, Cold Woman" - Oklahoma Wranglers. Record label scan
Following a session for the Sterling label in 1946, Fred Rose, of the famed Acuff-Rose publishing company, asked the group to stick around and accompany an up-and-coming young singer who needed a good band for his first recordings. The performer was Hank Williams, and the four songs he cut with the Willis Brothers (known as The Country Boys on these discs) on December 11, 1946, have become landmarks of American music.
Despite being the first group to record with Hank Williams, the Willis Brothers are probably best known for their 30-year association with the Grand Ole Opry, and the truck-driving songs they recorded for the Starday label, including their top-10 country hit, "Give Me 40 Acres," from 1964.
Kit and Kay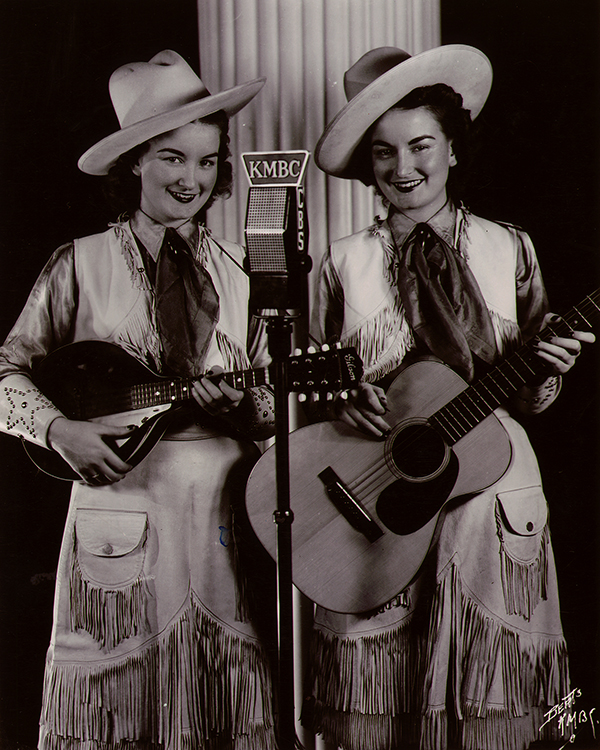 In 1938, just shy of their 18th birthdays and about 100 miles south of their Cainsville, Missouri, farm, twins Irene and Orlene Crouse found themselves in Kansas City, with five-year contracts and radio stardom.
Just a few years earlier, Irene and Orlene, then 14-year-old identical twins, along with their two older sisters, had been hired by station KMA in Shenandoah, Iowa, to perform on its early morning "Country School" show. After the older sisters left to start families, the younger girls continued as the Crouse Twins, eventually moving to KFNF, also in Shenandoah, and then to KFEQ, in St. Joseph, Missouri.
The Crouse sisters quartet first gained fame playing the barn dances and county fairs around their hometown. As a duet, with Orlene on guitar and Irene on mandolin, and both providing sweet cowgirl harmonies, the twins were an instant radio hit, attracting fans throughout the Midwest. One admirer was KMBC founder Arthur B. Church, who tried to lure them from St. Joseph to Kansas City with ever more lucrative contracts. However, leery of the big city, the twins turned down repeated offers from KMBC, and the station (mistaking the twins' hesitance for a salary dispute) kept upping its offers. With the offers finally too good to refuse, the sisters signed with KMBC in 1938, just in time to play the inaugural "Brush Creek Follies" that September.
"Lay Down My Old Guitar" - Kit & Kay
Live on Brush Creek Follies, 15 March 1941
Believing its new singing stars needed a more colorful title, the station sponsored a contest to rename the Crouse twins. A young fan in the rural outer reaches of the KMBC listening area won with her suggestion: "Kit and Kay." An instant hit, Kit and Kay also starred on the "Early Bird Jamboree" each morning and the "Dinner Bell Roundup" at noon, which aired nationally over CBS, with the Oklahoma Wranglers and Colorado Pete.
The twins' popularity took them throughout the Midwest, touring with Colorado Pete, the Oklahoma Wranglers, and others, playing fairs, festivals, between features at local theaters, promoting their sponsor, International Harvester, and even leading the American Royal parade through downtown Kansas City on twin ponies. Over the next several years, Kit and Kay became the region's radio sweethearts and fan favorites until leaving in the mid '40s to start their own families.
Colorado Pete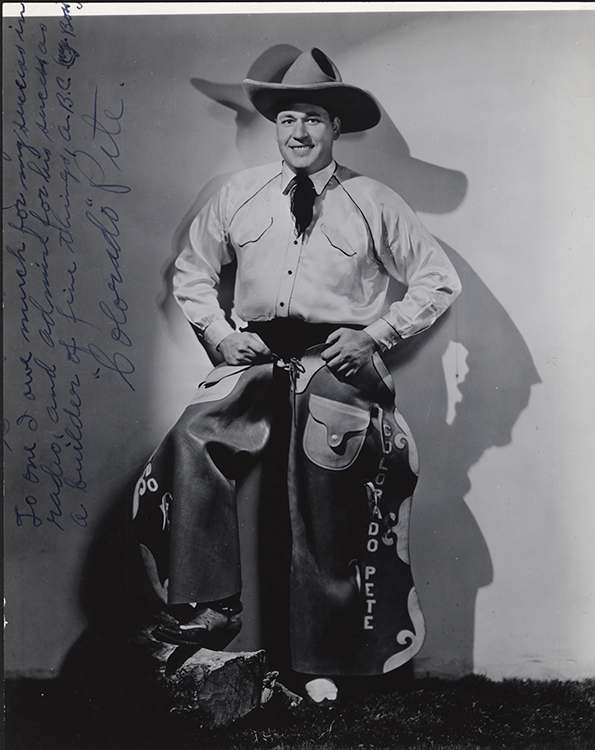 One of the favorites of the "Brush Creek Follies," and the show's longest-running regular performer, was Kansas City's genial cowboy, Colorado Pete. Known for his aw-shucks warmth and winning smile that revealed "the biggest gold tooth east of Cripple Creek," Colorado Pete actually got his start singing and yodeling around the campfire.
"Little Girl Dressed In Blue" - Colorado Pete
Live on Brush Creek Follies, 18 January 1941
George Martin had been serenading his friends for years, and they finally encouraged him to tryout for radio. Signed to KMBC and renamed Colorado Pete, Martin became an institution at the station, performing morning, noon, and night for two decades, as well as appearing each Saturday evening on the Follies, hosting KMBC's "Big Brother Club" kids show, and touring year-round, entertaining at fairs and theaters throughout the Midwest.
Pete's reputation as KMBC's "smilin' cowboy friend" was also evident offstage. Traveling together, performing at one county fair after another, Colorado Pete served as driver, chaperone, confidante, and surrogate big brother for Kit and Kay, Millie and Sue, and other young performers from the KMBC family.
Millie and Sue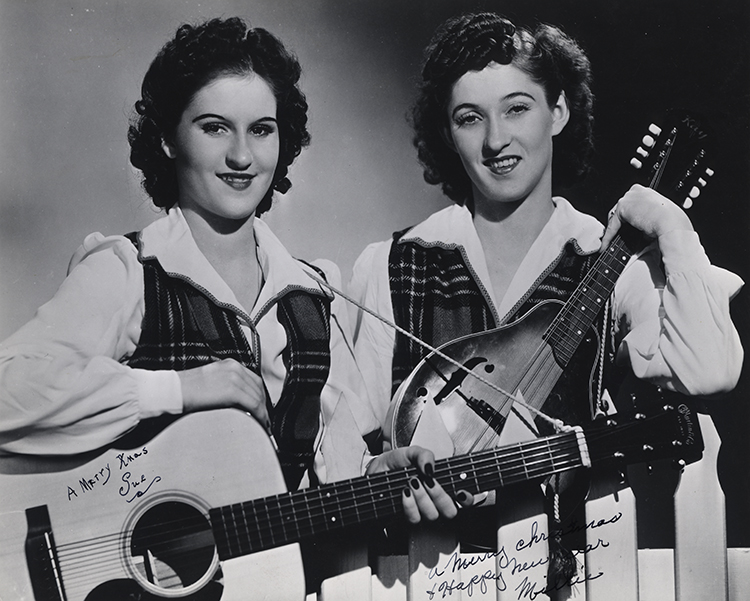 From the beginning, female vocalists were essential to rural music. With the early popularity of the Carter Family, Patsy Montana, and others, hillbilly sweethearts and singing cowgirls also became an integral part of every country barn dance and western radio show broadcast across the country. The "Brush Creek Follies" was no exception, and, with the departure of Kit and Kay in the early '40s, KMBC quickly signed two new cowgirls to fill their boots.
Millie and Sue Bybee had been performing in an around their native Cross Timbers, Missouri, for years when they began their radio careers. First as guests, then regulars on KWTO in Springfield, then eventually in Kansas City, the Bybee Sisters, as they were known, were fan favorites. Moving to KMBC in 1942, the Bybee sisters became Millie and Sue, and -- with Millie on mandolin and Sue on guitar -- instant stars of the "Brush Creek Follies."
"Good Morning Judge" - Millie & Sue
Live on Brush Creek Follies, 15 May 1951
Millie continued at KMBC until 1953, and performed solo as Millie Wells. Though Sue left in 1945, the two reunited numerous times over the years for guest spots on the Follies and other country music shows, including the "Cowtown Jubilee," which returned to the Ivanhoe Temple in the mid '50s, following the demise of the "Brush Creek Follies."
Some of the old "Brush Creek Follies" magic endured in central Missouri as, on the second and fourth Saturdays of each month, Millie and her husband, occasionally joined by Sue, continued to perform into the 2000s at the Cross Timbers Community Building.