Characters, Sidekicks & Comic Relief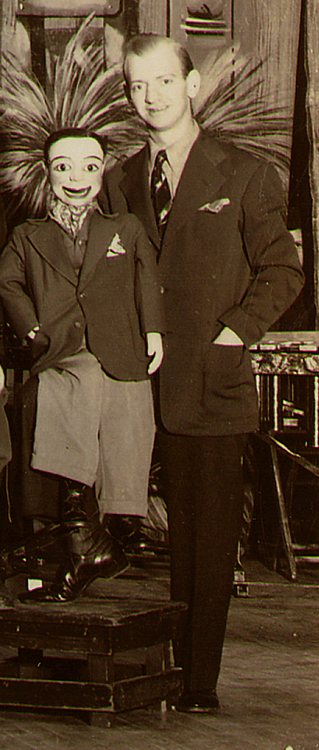 Beginning with the first rural music broadcasts in 1922, barn dance shows were big, and hillbilly revues filled the airwaves coast to coast. From the "Hollywood Barn Dance" to Boston's "Hayloft Jamboree," these shows had more in common than music. Along with cowboy singers and western bands, these barn dance revues had similar formats, production, and characters. Each also offered entertainment of every stripe, from contests to square dances, audience sing-a-longs to amateur nights, and down-home wit to hillbilly humor. The "Brush Creek Follies" was no exception, and during the show's two-decade run, the singers, fiddlers, and pickers shared the stage with assorted clowns, characters, and musical comedians.
The ventriloquist act Kenny and Scrappy was a favorite of younger Follies fans. Kenny Carlson was the human straight man to his wooden sidekick, Scrappy O'Brien, who also had a children's radio show on KMBC, "The Scrapes of Scrappy."
Ventriloquist act Kenny & Scrappy
Live on Brush Creek Follies, 8 March 1941
A magician, Tim West, was another Follies character. West, whose real name was Claude Enslow, also hosted KMBC's first children's TV show, "Time for Tim West," which first aired on September 1953.
Another beloved Follies character was Frank Wiziarde, who played Follies emcee Hiram Higsby's "country cousin Elmer." A classic hillbilly comic, Wiziarde would move on to television, and, beginning in 1955, greater fame as local kids' show host Whizzo the Clown.
Other comic relief on the Follies included the gravity-defying antics of Denny Slofoot and the hillbilly buffoonery of Ruben E. Wintersuckle.
Reflecting the deplorable racial climate of the day, black-face routines were common on stage, screen, and radio, and the "Brush Creek Follies" was no exception, with "George Washington White," portrayed by Eddie Edwards, appearing frequently. This characterization is disappointing not only for its insensitivity, but also for overshadowing the contributions of Edwards, who was one of KMBC's leading on-air personalities, emcees, producers, and writers.
Hiram Higsby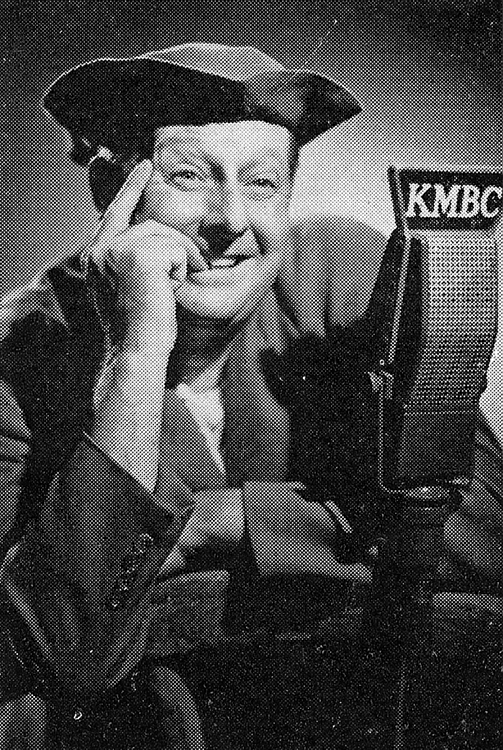 The Follies' indisputable character-in-chief was Hiram Mortimer Higsby, the show's reigning emcee, and "radio's original rube."
Higsby, a Kansas native, got his start in 1924 while still in high school, performing on KFBI in Milford, Kansas, as part of the McOwen Hillbillies. Three years later, Higsby was on Topeka's WIBW, where he got the call to become a regular on Chicago's "National Barn Dance." Following his stint in Chicago, Higsby came to Kansas City and began a 15-year association with KMBC and the "Brush Creek Follies."
Along with announcing, telling jokes, and playing straight man to the show's comics, Higsby was a singer, guitarist, and harmonica player. He also served as a Follies staff writer, hosted other KMBC programs, and was a serious musicologist, amassing a large collection of traditional American sheet music.
"Comin' Round The Mountain" - Hiram Higsby & others. Live on Brush Creek Follies, 22 March 1941
In the '40s, Higsby left Kansas City and the Follies for the similarly named and formatted "Bluff Creek Roundup" on Oklahoma City's KOMA. Higsby returned to KMBC and the "Brush Creek Follies" in the 1950s, just as television eclipsed live radio.
The next 20 years found Higsby working at country radio stations from Kansas to Canada, hosting a kids' TV show in Tulsa, and, in 1974, celebrating his 50th year in country music. Hiram Higsby, who died in 1975 at age 66, was posthumously inducted into the Country Music DJ Hall of Fame in 1995.
Jed Starkey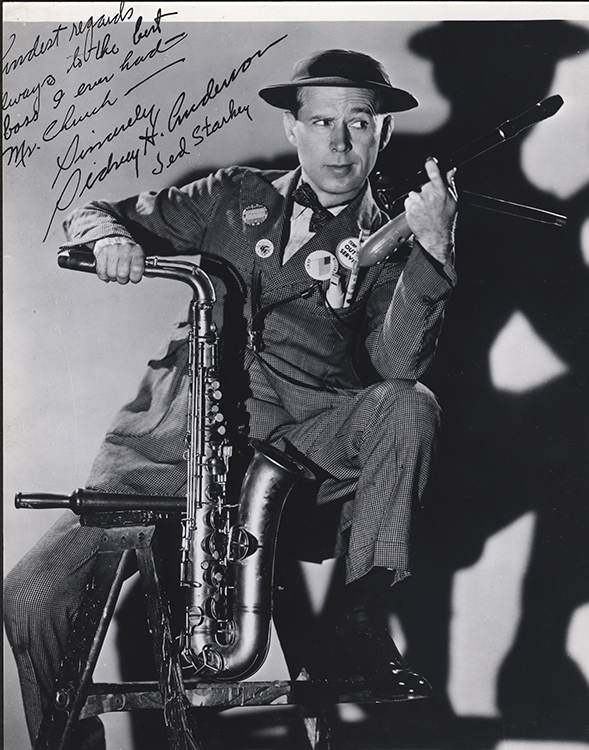 Jed Starkey joined KMBC in the '40s, and starred on the Follies, the "Dinner Bell Round Up" heard over the Columbia network, and other KMBC programs.
Born Sidney Anderson in Gravett (now spelled Gravette), Arkansas, Starkey came from a family of entertainers, with his mother, father and five siblings all pursuing stage careers. Before entering radio, Starkey toured with vaudeville shows, played piano in movie theaters, and established a musical comedy team with his first wife, Etta, known as "Spec and Etti." His first radio job was with KFNF in Shenandoah, Iowa, where Starkey wrote, directed, and starred in his own show each evening, "Punkin' Valley."
At KMBC Starkey was an accomplished musician as well as comic, and was known for making music from just about anything he could hit, pluck, scrape, or blow through, in addition to the usual assortment of saxophones, clarinets, and fiddles. Starkey was also famous for playing his "snotas" on the nose whistle. And, according to a 1947 article on Starkey, "if that wasn't enough to get to the audience, he'd play tunes by blowing through his hands."
Starkey was also an emcee for other KMBC programs, a writer, and a regular on KMBC's "Big Brother Club" kids show. In the '50s, Starkey moved to television, hosting KMBC's "Comiclub" TV show for children as "Uncle Jed."
Bud and Spud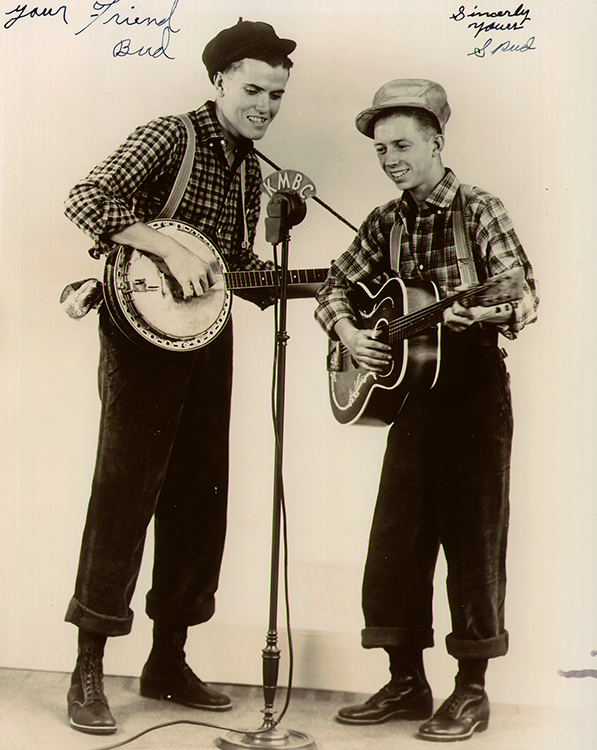 Though hired for their musical abilities, Bud and Spud were definitely characters. Their topnotch bluegrass playing earned them a contract with KMBC and fame on the "Brush Creek Follies," but it was their off-stage antics that made Bud and Spud infamous with their co-stars.
Moberley, Missouri, natives Ralph "Bud" Hunt and Earl "Spud" Bledsoe came to the station in the late '30s, having met in jail where both were doing time for petty theft. Along with their unlawful pastimes, the two also shared a passion for music, and teamed up as Bud and Spud. Hunt played banjo, Bledsoe guitar, and both sang traditional mountain harmonies.
Along with the duo's authentic musical repertoire, Bud and Spud are fondly remembered for their sense of humor, anything-goes atmosphere, and elaborate pranks they inflicted on KMBC and the Follies family. Orlene "Kit" Johnson related a typical Bud and Spud escapade involving a donkey, which the duo wanted onstage with them at that evening's Follies. The show was to be a special "Bud and Spud Night," and the two decided that adding a donkey to their act would make their night truly special. However, before the show, they decided that their new costar should be formally introduced to management. So Bud, Spud, and donkey moseyed up to the Pickwick Hotel and boarded the elevator for the station's corporate offices. Reaching KMBC headquarters, Bud and Spud ushered the animal in to get acquainted with the Follies' program director. "They were real hillbillies," Johnson recalled fondly, "and they were crazy."