Shawnee Sun (Siwinowe Kesibwi) Newspaper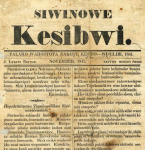 Baptist minister, Indian missionary, and printer Jotham Meeker issued the first newspaper printed in what is now the state of Kansas - and the first in the country printed entirely in a Native American language.
Meeker devised a phonetic printing system that enabled him to print in a Native American language as easily and cheaply as in English. Among items he produced were a code of tribal laws of the Ottawa Indians and the aforementioned newspaper, the Shawnee Sun.
The Shawnee Sun began as a monthly in March 1835. Only two known copies of the newspaper exist, one of which is housed in LaBudde Special Collections at the Miller Nichols Library, University of Missouri-Kansas City. The extant sheet contains a two-page excerpt from the November 1841 issue.