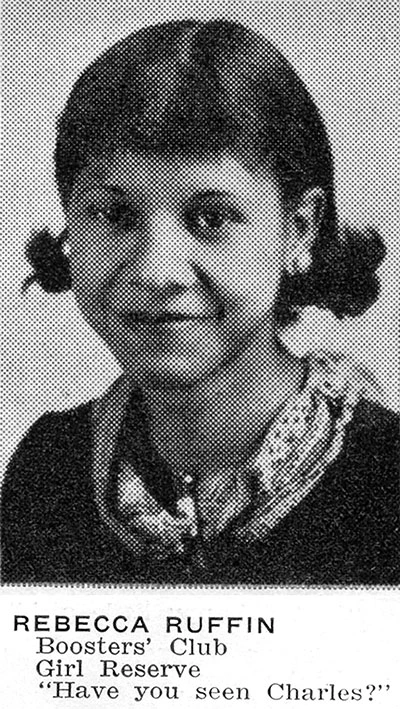 A FEW MONTHS AFTER CHARLIE'S HUMILIATION AT THE JAM SESSION, he married his high school sweetheart Rebecca Ruffin, who was two years his senior. For the first time, Charlie felt like the man of the house. Eager to support Rebecca and help Addie financially, Charlie joined a union band that played in the Ozarks, a mountainous region 150 miles southeast of Kansas City.
On Thanksgiving Day, 1936, Charlie traveled with a band to play the grand opening of Musser's Ozark Tavern, located near Eldon, Missouri. On the way, the car Charlie was traveling in hit a slick spot and flipped over. The force of the accident killed the bandleader George Wilkerson and fractured Charlies' back and ribs. Charlie convalesced at home under the watchful eye of Addie.
In the summer of 1937, Charlie played and extended engagement with the George E. Lee Band at the Ozark Tavern. Surrounded by racially hostile territory, band members kept a low profile and stayed at the resort. After hours, Charlie practiced his saxophone, mastering chord changes, substitutions, voicing and inversions. Charlie came of age musically that summer spent in the Ozarks.
Once back in Kansas City, Charlie became an in-demand soloist. In March 1938, Charlie joined alto saxophonist Buster Smith's band at Lucille's Paradise, a popular nightspot in the heart of 18th and Vine. Smith mentored Charlie onstage, teaching him how play double time and glide in and out of key.
After Smith moved to New York, Charlie joined pianist Jay McShann's band at Martin's on the Country Club Plaza, an upscale shopping district. On the side, he played with drummer Jesse Price's band at the Jelly Joint, a malt shop, frequented by University of Kansas City students.
In November 1938, Charlie switched to the Harlan Leonard Band. Charlie became a star soloist with the Leonard Band, billed as the "Saxophonist Supreme". The no nonsense Leonard soon let the notoriously unreliable Charlie go. Harlan later recalled, "We could never count on him showing up." Feeling dejected and not getting along with Rebecca, Charlie hopped a freight train for New York, hoping to reunite with his musical father Buster Smith.