Walt Bodine: Kansas City's Master Broadcaster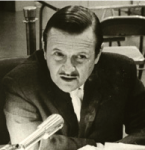 Walt Bodine is a Kansas City institution, broadcasting across the airwaves in this region for over seven decades. His on-air voice and reporting persona captivated listeners, and his remarkable ability to sculpt engaging stories from the barest of facts made him a charismatic raconteur for generations of Kansas Citians. When he migrated from reportage to a talk show format, Walt's storytelling acumen, coupled with his impressive improvisational skills and his engaging conversational style, ensured the long-running success of this phase of his career.
In the late 1980s, Walt donated a small collection of his recordings to the Marr Sound Archives at the Miller Nichols Library of the University of Missouri-Kansas City. A selection of these recordings has been digitized and is accessible here. Many of the programs focus on events of historic importance in the history of Kansas City, including the 1951 flood, the 1957 tornado, and the 1968 riots. In addition, selected interviews with notable figures from the worlds of politics, music, literature, and science are also available. Listeners of these recordings will discover – or have reiterated for themselves – that Walt Bodine is, indeed, Kansas City's master broadcaster.
1951 Kansas City Flood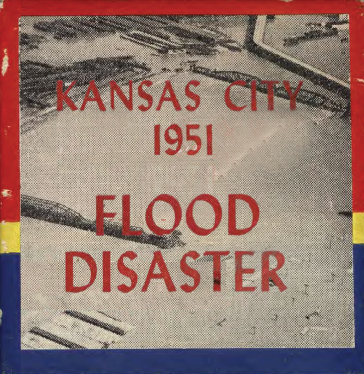 Entire News of the World Broadcast
The News of the World with Leon Pierson includes news of the flooding in the Midwest and WDAF local news coverage. World news includes the Korean War, Josephine Baker segregation case, Margaret Truman's return from Europe, and more.
Select clips featuring Walt Bodine:
Local breaking flood news.
Walt Bodine Reporting on the flood.
Walt Bodine Reporting on the flood.
Local flood coverage.
Walt Bodine reporting.
Local flood coverage.
Bodine reporting on President Truman's visit.
Truman's 800-mile aerial tour of flooded areas.
Library Resources
External Resources
Flood Photos
Missouri Valley Special Collections, KC Public Library
---
1957 Ruskin Heights Tornado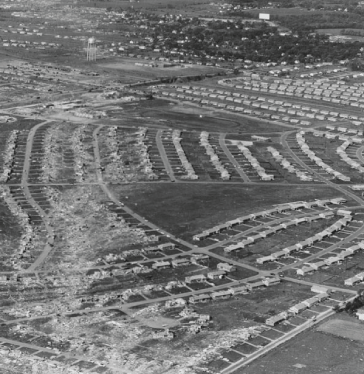 Diary of a Disaster
Produced by WDAF News and written, directed and narrated by Walt Bodine, this radio documentary chronicles the 1957 Ruskin Heights Tornado.
Part 1 - The Birth of a Killer
Part 2 - The Killer Strikes
Part 3 - Aftermath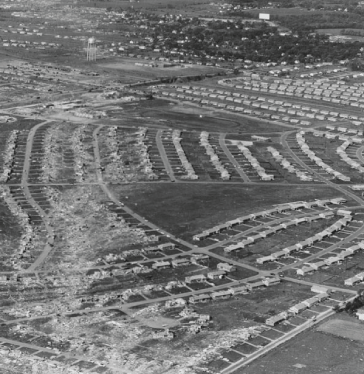 20th Anniversary of the Kansas City Disaster
This is a KMBZ News special report that takes a look back at the 1957 Ruskin Heights Tornado. The narrator is Scott Kingore and Walt Bodine was interviewed.
The Ruskin Heights Tornado
Library Resources
External Resources
Photos
Missouri Valley Special Collections, KC Public Library
---
Conversations
In 1960, while at WDAF, Walt and his co-host Jean Glenn brought guests such as Robert F. Kennedy, Werner Von Braun, and James Michener to Bretton's Restaurant in Downtown Kansas City.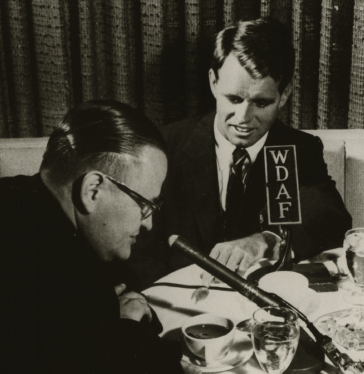 Interview with Robert Kennedy
Robert Kennedy discusses his brother John F. Kennedy's campaign for President and the various issues of the 1960 campaign. Richard W. Bolling, the Missouri Democratic Representative to U.S. Congress between 1949-1983, is also a guest. Fall 1960.
Interview with Sander Vanocur
Sander Vanocur, NBC White House Correspondent, discusses John F. Kennedy's presidency and assassination, as well as Lyndon Johnson's presidency.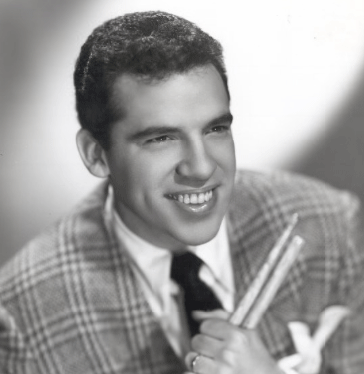 Interview with Buddy Rich
Buddy Rich talks about jazz and other musicians Lawrence Welk, Guy Lombardo, Stan Kenton, Count Basie, Frank Sinatra, and more.
Interview with Dr. Werner Von Braun
Werner Von Braun, Director of the Marshall Space Flight Center, discusses uses for rockets including military, space travel and visiting the moon. He also talks of his youth and his coming to America.
Interview with James Michener
Michener is promoting his book Hawaii and speaks about the U.S. relations in Asia. He also discusses the division of India and Pakistan and United States race relations.
---
Insight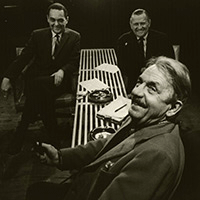 The Many Faces of Insight
During the same period of time Walt was working on Conversation, Walt and Bill Leeds started a weekly primetime talk show on WDAF-TV. Their guests included Dean Acheson, Chester Bowles, David Susskind, Thomas Hart Benton, Hon. Henry Cabot Lodge, Jr., Father Dismas Clark, Chet Huntley, and more.
---
1968 Kansas City Riots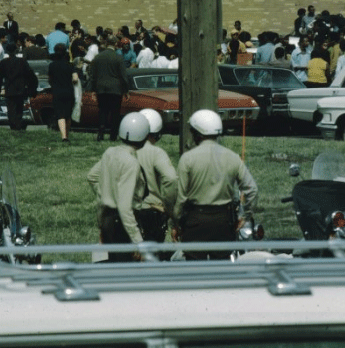 Night Beat Broadcast Covering Riots
The recording is from Thursday, April 11, the third day of the 1968 Kansas City riots (April 9-11). Walt speaks with Jackson County Sheriff Arvid Owsley, Kansas City Mayor Ilus Davis and Jackson County Prosecutor Joe Teasdale. There is also a statement from Fred "The Hammer" Williamson.
Library Resources
External Resources
---
Christine Craft Lawsuit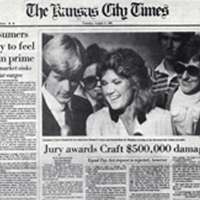 Interview & Listener Call-in
There is a brief interview with Christine Craft, concerning her age and sexual discrimination lawsuit against Metromedia. Craft was demoted from her position as news anchor to reporter. The interview is followed by listener call-in regarding her lawsuit. Summer 1981.
Library Resources
---
Ronald Reagan Assassination Attempt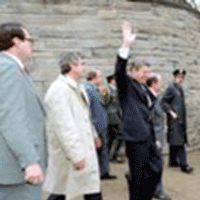 Listener Reaction & Call-in
James McKinley, Ph.D., UMKC professor and author of Assassination in America, discusses the assassination attempt on Ronald Reagan, followed by listener reaction and call-in. This was broadcast on March 30, 1981, on KMBZ.
---
30 Years of Talk Radio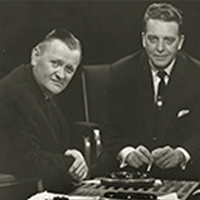 Walt and his guests look back on his 30 years doing talk radio. There are clips of past broadcasts, and Walt and his guests talk about the business of broadcasting in Kansas City, including the evening someone brings a lion into the studio. November 2, 1989.
A Look Back, Part 1
A Look Back, Part 2
---
Walt, The Humorist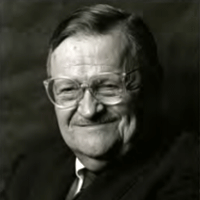 Walt Spoofs the Talk Show
Walt and his cohorts have a little fun with the talk show genre.
---
Audio credits: Walt Bodine Collection, Marr Sound Archives, UMKC Miller Nichols Library
Image credits: Walt Bodine Collection, LaBudde Special Collections, UMKC Miller Nichols Library, except:
1951 flood: L. Perry Cookingham Collection, LaBudde Special Collections
1968 riot: 1968 Riot Collection, LaBudde Special Collections
Tornado damage: Missouri Valley Special Collections, KCMO Public Library
President Reagan: Ronald Reagan Presidential Library
Newspaper: Kansas City Times